March 19th - August 28th 2022
Anne Marie Carl-Nielsen
Discover the work of Denmark's most important female sculptor, Anne Marie Carl-Nielsen (1863 – 1945).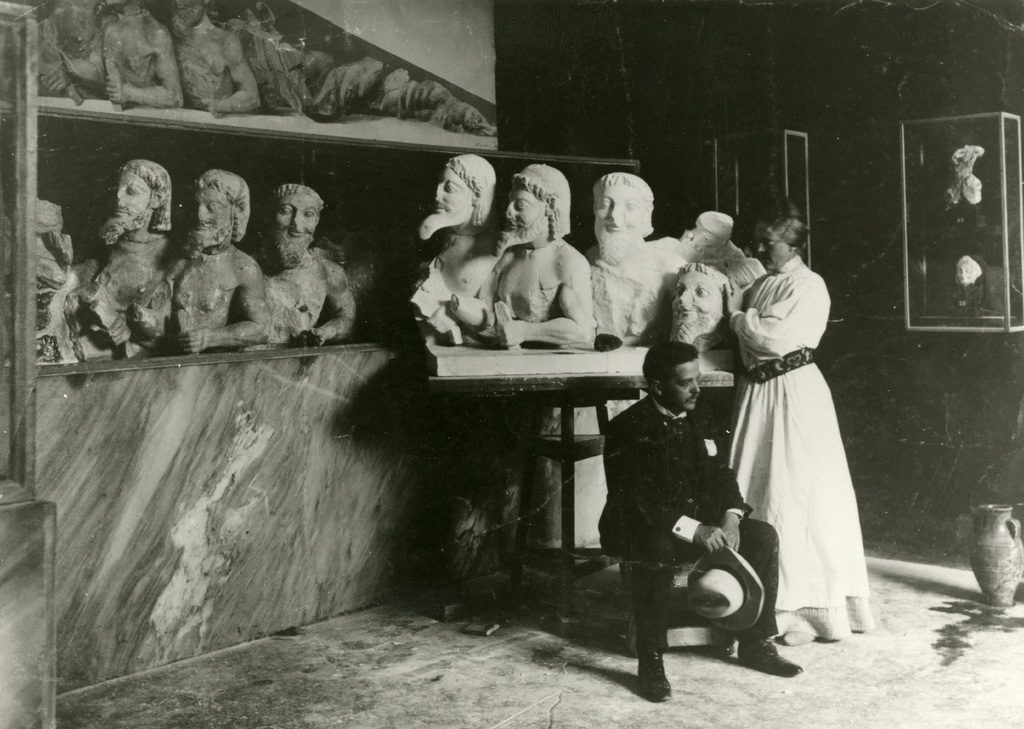 The exhibition is the largest solo exhibition of her work since 1946. Visitors are invited into the artist's studio, where they can see various preparatory works for her monumental sculptures. The exhibition is also a perfect opportunity to get to know this uncompromising artist who, though in great demand and highly acclaimed in her lifetime, was subsequently omitted from history.
Anne Marie Carl-Nielsen was the first female sculptor in the world to be commissioned to create an equestrian statue of a king and bronze gates for a cathedral – two of the profession's most prestigious assignments. Even though many people are familiar with the equestrian statue of King Christian IX of Denmark on the Christiansborg Riding Grounds in Copenhagen or have passed through the bronze gates when entering Ribe Cathedral, very few people today know who Anne Marie Carl-Nielsen was. However, in her lifetime she was a much sought-after and highly successful artist whose work was featured in major exhibitions both in Denmark and abroad, garnering many awards.
At the age of 25, she exhibited at the Nordic Exhibition of Industry, Agriculture and Art in Copenhagen, where the French sculptor Auguste Rodin noticed her small statuettes of calves, which he found so lifelike that "… they smelled of cowshed." The following year she represented Denmark at the Exposition Universelle in Paris and won a bronze medal. She went on to receive a Thorvaldsen Medal (the greatest accolade the Royal Danish Academy of Fine Arts grants) and the Regent's Ingenio et Arti gold medal, and for almost 30 years lived in the honorary residence of the Royal Danish Academy of Fine Arts.
Her hands were her knowledge
At the tender age of 12, she began modelling small animal figurines in butter and clay. Growing up in the country, Anne Marie Carl-Nielsen depicted the family's domestic animals in any materials that were available. Despite her obvious artistic talent, her father believed she should learn housekeeping. But her stubbornness and dedication prevailed, and she became a student of the acclaimed sculptor August Saabye (1823 – 1916).
Anne Marie Carl-Nielsen made maquettes for her works in wax and clay, and cast the sculptures in plaster and bronze. She was primarily a sculptor. Her hands were her knowledge. She expressed herself in three dimensions, allowed photographers to capture her work at every stage of its genesis and took control of her work and its narrative early on in her career.
Equality in art – the art of equality
Anne Marie Carl-Nielsen was a modern woman. She was married to the composer Carl Nielsen, who was both her muse and her nemesis. Throughout her life, she attempted to find a balance between art and love. Not only was she progressive on her own behalf; she also fought for women's right to academic education. Together with Anna Ancher and other major female artists of the time, she founded the Society of Women Artists, while working actively to secure women's admission to the Royal Danish Academy of Fine Arts and their right to exhibit in an era dominated by male artists.
Despite Anne Marie Carl-Nielsen's role as one of our most important and successful sculptors and as an artistic role model in her lifetime, she never gained the recognition and legitimacy in art history she rightly deserves.
About Anne Marie Carl-Nielsen
Anne Marie Carl-Nielsen lived from 1863 to 1945. She was married to the composer Carl Nielsen. Together they had three children. She was born and raised in Kolding, but moved to Copenhagen at an early stage and spent long periods of time abroad. In addition to the equestrian statue of King Christian IX and the bronze gates of Ribe Cathedral, her most famous works include The Mermaid at the Royal Danish Library and the monument to her husband on Grønningen, The Genius of Music, which depicts the young flautist. The latter are both located in central Copenhagen.
As well as her commitment to the Society of Women Artists, she also co-founded Den Frie Udstilling ('The Free Exhibition'), an association of Danish artists.
The exhibition is generously supported by Carl Nielsens and Anne Marie Carl-Nielsens Legat