The Collection
Ribe Kunstmuseum houses a collection of Danish art from 1750 to 1950. The exclusive range includes a number of highlights.
From the late 18th century, you can see works by the portrait painter, Juel and the court painter, Nicolai Abildgaard. The Danish Golden Age painters from the first half of the 19th century include: C.W. Eckersberg, Christen Købke, J.Th. Lundbye and Martinus Rørbye.
You can see works by the Skagen painters, Anna and Michael Ancher, and P.S. Krøyer, and artworks from the Modern Breakthrough by L.A. Ring and Vilhelm Hammershøi. Fritz Syberg and Peter Hansen belonged to the group of Funen Painters of the early 20th century, while early Modernism is featured in works by William Scharff, Olaf Rude and Edvard Weie.
The Museum's collection is rounded off with landscapes by Sigurd and Christine Swane, and Oluf Høst, and with mask paintings by the CoBrA painter, Egill Jacobsen.
The Collection Keeps Growing
Today, the excellent collection at Ribe Kunstmuseum provides a concentrated overview of the history of Danish art with a bias towards painting.
The Museum's collection has evolved steadily from its foundation in 1891 until today. Various people have acted as advisors in the context of new acquisitions: the art critic and later museum director, Karl Madsen; the painter/designer, Johan Rohde; the art historian, Henrik Bramsen; and the Director of the Hirschsprung Collection, Eigil H. Brünniche.
Bequests and donations
Many masterpieces were bequests and donations: for example, from the New Carlsberg Foundation, which has supported Ribe Kunstmuseum for many years. The enormous variety of artworks include: Vilhelm Hammershøi's Three Young Women (1895); Nicolai Abildgaard's Jupiter Weighs the Fate of Mankind (1793); Olaf Rude's Green Lady with Two Black Dogs (1920); and the garden wall (also an artwork) by Per Kirkeby. Other foundations and private individuals have also been generous in terms of their support, and they continue to help us.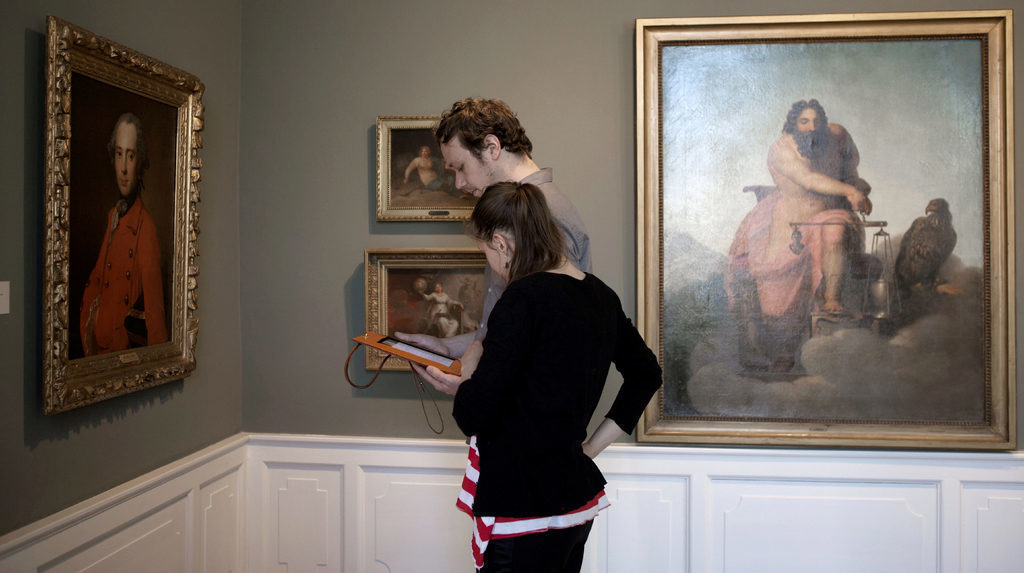 Explore the Museum's Collection
Using a mobile phone or tablet, you can learn more about the works of art and the collection as you walk around the Museum. You can also borrow an iPad from the ticket office. Find the work of art you are standing in front of and enter the work's inventory number in the search field under 'Collection': Search in the collection
You can also read more about the collection and its history in the Ribe Kunstmuseum collection publication (published in 2016).